Shapewear
For those times when the thought of dieting or going to the gym fills you with dread, you might just have to do the cheat feat...
If the question is how you'll get into that special dress for that special occasion in a hurry, the answer is our fantastic line of shapewear. Shapewear tucks in all those lumps and bumps, bulges and flat, so your body looks sleeker and smoother and you'll appear to have dropped a dress size overnight.
Shapewear comes in all shapes and sizes!
The revolutionary concept of adjustable shapewear allows you to alter the degree of control so that your clothes fit fabulously and look perfect day & night.
Shapewear for your butt, thighs and tummy
Control briefs
High-waisted briefs
Shorts
Long leg/Capri
Half slip
Padded panty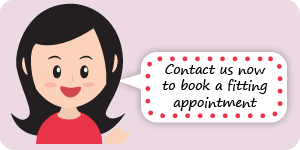 Shapewear for your waist
Camisole
High waisted panty/short
Waist cincher

Shapewear for your full body
Full length bodysuit
Body briefer
Minimizers
If you want to change your appearance by reducing your cup size by two sizes, or you want to fit nicely into that tight top, then the minimizer is the solution. We stock Edith Lances's and Wacoal among other brands.