Bridal
On your special day, you want to look lovely and feel special without feeling uncomfortable...plus, you probably want to dance the night away!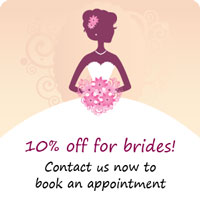 At Leeside we offer a very special service to brides, not to mention a 10% discount! Bring along your wedding dress and we'll find the right lingerie for you. We offer an expert fitting service and we are sensitive to every bride's individual needs.
At Leeside we understand that every bride is different - some brides want to look glamorous inside and out, and opt for luxury lingerie. Other brides want to make sure they can dance comfortably and opt for sports bras. Whatever your preference, we'll make sure you leave feeling absolutely perfect. Click here to book an appointment now.