Expert Bra Fitting
Over 70% of women and girls are wearing the wrong size bra...are you one of them?
Over time, wearing the wrong size bra can really cause problems, especially for women with larger breasts. Ill fitting bras are not just uncomfortable, but they can contribute to headaches, back pain, tingling in the arms, rashes, breast pain and restricted breathing.
If your bra is saggy, uncomfortable or unsupportive, it's time to come take advantage of our expert fitting service. Leeside have measured thousands of women around the country (and further afield!) for the correct bra fit. We believe that finding the right bra, shapewear and underwear can really change a woman's life!
We offer an innovation in fitting, providing you with a personal appointment to be seen by our lingerie consultant who will draw on over a decade of experience to give you the best fit you've ever had.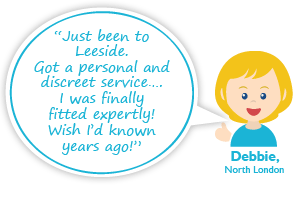 Our service provides you with private personal attention at a time that's convenient for you - even out of hours.

Women's sizes change throughout their lifetime and are affected by many factors including menstruation, change in weight or skin elasticity, pregnancy, nursing and aging. You should get measured every twelve months or at least after any major body change to make sure you are wearing the right bra.
How should your bra fit?
The centre front should sit flat against your body.
The band around your body should be straight and horizontal. It shouldn't ride up, and it should be secure but comfortable.
The front wires should lie comfortably flat against your rib cage. They shouldn't poke out, dig in, or chafe.
The bra cups should enclose your breasts. You shouldn't have any bulging or ridges over the top or sides of the cup, whatever the style.
The underwire should follow the natural crease of the breast.
The back straps should be parallel or slightly V shaped, and should not dig into the shoulder.
Five ways to tell you're wearing the wrong bra
Spilling Out: Breasts spilling over the tops or sides - increase band and/or cup size
Wrinkling and puckering: If cups wrinkle or pucker, you may need a smaller size
Jutting Out: Underwire should be flush against your rib cage
Digging In: If the straps are digging into you, try a different style
Riding Up: If your bra is riding up your back, you may need a tighter band
What do the sizes mean?
There are two parts to a bra size, the chest (or band) size, and the cup size. The chest size is the part of the bra that goes around your back. This is the number part of the bra size. The cup size refers to the part of the bra that holds the breasts. This is the letter part of the bra size. It's important to get both sizes correct.
What will happen at my expert bra fitting?
Many women feel uncomfortable at the idea of a stranger prodding and measuring! Don't worry. You will feel totally at ease with our experienced female fitter, although you might want to take your mum, sister or a friend for moral support! You will go into a fitting room, and our fitter will have a look at the bra you're wearing. You might be wearing the right size bra, but incorrectly adjusted.
Usually, our expert fitter can tell just by looking if your bra fits correctly, but she will most likely take measurements as well. You will be measured around the fullest part of your breasts and under the breasts. You will be measured with your bra on, no need to start stripping!
If you are wearing the wrong size bra, our fitter will bring you a selection to try on. She'll never just walk in, she'll always knock on so you won't be taken by surprise. She'll leave the room for you to try on the bras.
Even after the tape measure method, practical expertise is essential and our fitter will use her experience to make you feel comfortable and look just great.
It won't be long before our expert fitter finds you the right size and style - many people find that even a bra in the correct size doesn't fit them perfectly, so sometimes it's a matter of finding the right style too.
A myriad of different things affect perfect bra sizing, for example padding, strap adjustments, hooks and wires all change the bra fit.